Wafer Butterfly Check Valve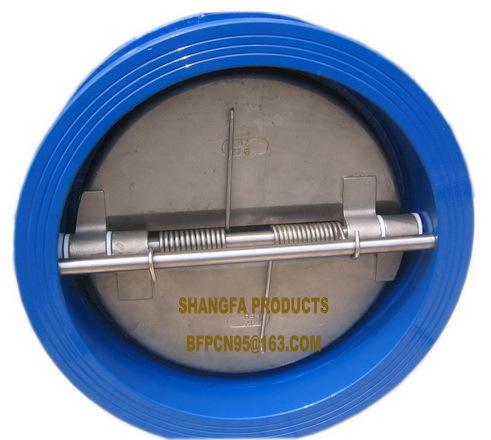 Wafer Butterfly Check Valve
Product Description
Wafer Butterfly Check Valve
The butterfly check valve is mainly composed of valve body, disc, stem and spring,and is connected by clamping. Because the closing stroke of the valve body is short and loaded by spring, the water cone phenomenon can be significantly reduced. The valve is mainly used in urban, industrial and high-rise building water supply and drainage pipe networks. Because its structure length is shorter than the general check valve, it is most suitable for places with installation space restrictions.
The advantages of butterfly check valve;
The structure is simple, the weight is light, and it is especially suitable for low pressure and large diameter pipeline.
For clamping connection mode, the production process is simple and the disassembly and assembly is convenient.
The check valve adopts pair clamping type, butterfly plate is two semicircular,and adopts spring forced reset, sealing surface can be body surfacing wear-resistant material or lined rubber, wide range of use, reliable seal.
Butterfly check valve refers to the automatic opening and closing disc depending on the flow of the medium itself, also known as reverse valve, one-way valve, reverse valve, and back pressure valve. Check valve is an automatic valve, its main function is to prevent media back flow, prevent pump and drive motor reversal, as well as container medium discharge. Check valves can also be used to supply lines in which the pressure may rise to an auxiliary system that exceeds the system pressure. Check valves can be divided into rotating check valves (rotating according to the center of gravity) and lifting check valves (moving along the axis).
Contact Us
No. 66, Jinhua Road, Shangjie Valve Industrial Park,, Zhengzhou, Henan, 450041, China
Phone :+8618838131638