Slow closed check valve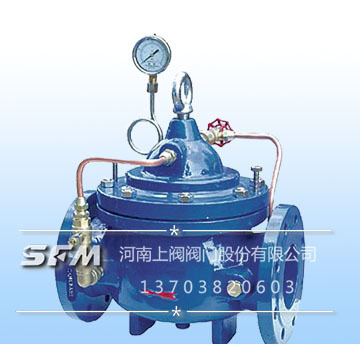 Slow closed check valve
Product Description
The slow-closed check valve consists of main valve 2, one-way valve 5, needle valve1 and ball valve 3, pressure valve table 4, etc. The slow-closing check valve has the functions of opening and closing speed control and reverse check. Valve installation can effectively control the pump to automatically adjust to the optimal opening and closing speed when starting and stopping rotation.Generally divided into diaphragm type and piston type, the slow and closed check valve caliber produced by our factory adopts diaphragm type below dn500mmand piston type above dn600mm. The action principle of the two types is similar. It is widely used in industrial water supply. High-rise buildings are directly fed by pumps to reduce the phenomenon of water cone and water hammer,and achieve the effect of safe shutdown.

Technical advantages of slow-closing check valve

The structural length is short, and its structural length is only 1 / 4 x 1 / 8 of the traditional flange check valve.
The size is small, the weight is light, and its weight is only 1 / 4 x 1 / 20 of the traditional flange check valve.
The valve clack is closed and the pressure of water hammer is small.
Horizontal or vertical pipes can be used,easy to install.
The flow channel is smooth and the fluid resistance is small.
Sensitive action, good sealing performance.
The disc travel is short, shut off valve impact force is small.
The overall structure is simple and compact,and the shape is beautiful.
The service life is long and there liability is high.

Requirements for maintenance and maintenance of slow closing check valves;

The valve shall be stored in a dry and ventilated room to prevent moisture, rain and rust.

The opening and closing part shall be in the closing device at the time of storage and transportation, and the following work shall be done:

a. The valve flap shall be fixed to the open position
b. The inner opening at both ends of the diameter shall be blocked with a foam plate, and the port shall be tightly plugged with a stuffy cover to prevent dust and rust, and to keep the passage clean and the end face flat;
c. Proper packaging protection, shock protection and collision protection are carried out in the cylinder.
d. The valve shall be placed stably, and the pneumatic drive device shall face upward and shall not be squeezed by each other.

Periodic inspection should be conducted for long-term placement. After every three months, check the dirt and rust on the two channels and the sealing surface, check the protective condition of the welding port, wipe the dirt and rust, and then apply the anti-rust oil to protect it.

The slow-closing check valve is an intelligent valve which is installed at the water pump outlet of high-rise building water supply system and other water supply system to prevent back flow of medium, water hammer and water hammer. The valve has three functions of an electric valve, a check valve and a water hammer eliminator, can effectively improve the safety and reliability of the water supply system, and integrates the technical principle of slow opening, quick closing and slow closing to eliminate water hammer, and can prevent the water hammer of the open pump and the water hammer of the pump from being generated.The opening and closing of the water pump motor only needs to be operated, and the valve can be automatically opened and closed according to the operation specifications of the water pump, so that the flow rate is large, and the pressure loss is small.

Contact Us
No. 66, Jinhua Road, Shangjie Valve Industrial Park,, Zhengzhou, Henan, 450041, China
Phone :+8618838131638