Pneumatic release/ bleeding ball valve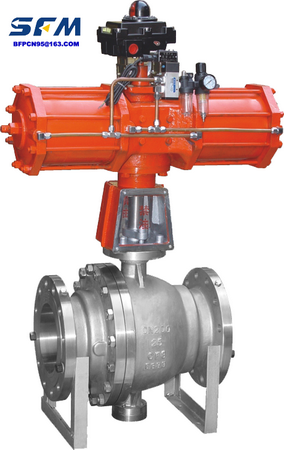 Pneumatic release/ bleeding ball valve
Product Description
Pneumatic ball valve
works by rotating the valve core to make the valve smooth or closed. Pneumatic ball valve switch light, small volume, can be made into a very large caliber, reliable seal, simple structure, easy maintenance, sealing surface and spherical surface often in closed state, not easy to be eroded by the media, widely used in various industries
Pneumatic ball valves are mainly used in the pipeline to quickly cut off, distribute and change the flow direction of the medium.
Pneumatic ball valve is a new type of valve, it has the following advantages:
Low fluid resistance .The resistance coefficient is equal to pipe of the same length.
Simple structure, small size and light weight.
Compact and reliable, plastic are widely used for ball valve sealing surface, good sealing and has been widely used in vacuum system.
Convenient operation,quick opening and closing, 90 rotation from full opening to full closing,convenient for long distance control.
Easy to maintain, structure of pneumatic ball valve is simple, sealing ring is generally unfixed, easy to remove and replace.
When the valve is completely open or closed, the sealing surface of the ball and valve seat is isolated from the medium, and when the medium passes, it will not cause the valve seal surface to erode.
Wide range of application, can be used from several millimeters to several meters,from high vacuum to high pressure.
The pneumatic ball valve power source is gas, generally 0.2-0.8mpa pressure, relatively safe. If the pneumatic ball valve leaks, relative to hydraulic, electric, gas can be discharged directly, no pollution to the environment, at the same time has a higher safety.
Compared with manual and worm wheel operated ball valves, pneumatic ball valves can be produced in large diameter. (Manual and worm wheel operated ball valves are generally below DN 300, pneumatic ball valves can reach DN 1200).
Pneumatic ball valves have been widely used in petroleum, chemical industry, power generation, paper making, atomic energy, aviation, rocket and other departments, as well as people's daily life.
Contact Us
No. 66, Jinhua Road, Shangjie Valve Industrial Park,, Zhengzhou, Henan, 450041, China
Phone :+8618838131638