Pneumatic Full Ball Valve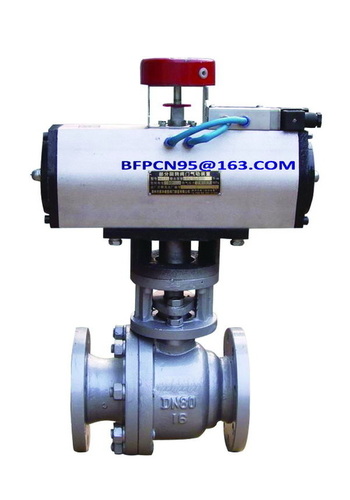 Pneumatic Full Ball Valve
Product Description
Pneumatic Full Ball Valve
The characteristics of ash discharge ball valve are the same as that of coal injection ball valve, which is an ideal equipment for controlling dust gas, granular liquid, and powder and so on. Widely used in petroleum, chemical industry, power generation, paper, thermal power plant and other working conditions on the pipeline, cut off or connect the medium suitable for: water, steam, oil, nitric acid, acetic acid, urea and other corrosive and strong oxidizing medium.
The working principle of the ash ball valve is to make the valve smooth or closed by rotating valve love. Pneumatic ball valve switch is light, small, can be made into a large caliber, reliable sealing, simple structure, easy maintenance, sealing surface and spherical surface often in closed state, not easy to be eroded by the medium, widely used in various industries
Pneumatic ash-removing ball valve and cock valve are the same type of valve, only its closure is a ball, the ball around the valve body center line for rotation to open, close a valve. Pneumatic ash-removing ball valve is mainly used in the pipeline to cut off speed, distribute and change the flow direction of medium
The technical advantage of ash ball valve is mainly
1. Long service life, sealing ring selected self-lubricating PTFE material. The ball of ash-removing ball valve is slightly rubbed with the sealing ring, which can effectively improve the service life.
2. Small volume, light weight, easy to install and maintain.
3. Ash ball valve structure can be installed in any direction with any part of the pipeline.
4. ash unloading ball valve is connected with axial packing to achieve anticorrosion a grade seal working temperature -28 30 of oil, operation mode: Manual, pneumatic, electric, hydraulic and electro-hydraulic, etc.
The ball valve adopts floating structure, the ball core is precision casting, the outer surface is plated with hard chromium treatment, the seat is made of metal or reinforced PTFE material, the channel mouth is the same as the pipe caliber, the flow capacity is extremely large, the flow resistance is very small, no leakage when closed, generally used as switch valve, especially for high viscosity, fiber, granular medium
The ash-removing ball valve mainly consists of pneumatic ash-removing ball valve, hydraulic ash-removing ball valve, electric ash-removing ball valve, volute ash-removing ball valve, etc