Electric Gate Valve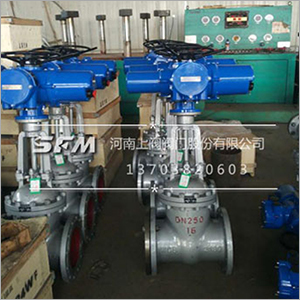 Electric Gate Valve
Product Description
Featuresand uses of electric gate valve:
Driving part of the productadopts multi-rotary electric actuator to drive and control the opening andclosing of the valve. The operator can remote control the valve inside acontrol room or manually operate the valve on site. Also can cooperate with thecomputer to realize the computer automatic control. The valves are widely usedin drainage, heating, power plant, chemical, food, paper, pharmaceutical, coal,mining industries, meeting the automation requirements of modern industry andagriculture.
Electric gate valve is astraight line operation valve, it is compatible with the Z type multi-rotaryactuator and have switch type and intelligent type
The valveis very simple to operate and is one of the most common opening and closingvalves, which use Up and down operation of the gate to connect and close thefluid medium in the pipeline. Optional electrical controller
Characteristics of electric doubleflange gate valve
1. Fast opening and closing, stable and reliable, highdegree of automation.
2.Installation height and position are not limited.
3. Adopting explosion-proofelectric device can work normally in flammable and explosive, even poisonousgas environment.
4.Equipped with manual operation unit, in case of powerinterruption, manually operate to open or close valves for effective control ofmedium to prevent accidents
Contact Us
No. 66 Jinhua Road, Shangjie Valve Industrial Park, Zhengzhou, Henan, 450041, China
Phone :+8618838131638