Electric Ball Valve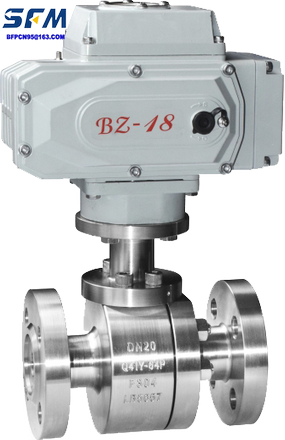 Electric Ball Valve
Product Description
Electric Ball Valve
The electric ball valve is simple in structure and consists of only a few parts, which saves materials, has features of small volume, light weight,small installation size, small driving torque, easy operation and quick operation,and can be quickly opened and closed with only 90 rotation. At the same time,it also has good flow regulation function and sealing characteristics. Electric ball valve is the dominant valve in large and medium diameter, medium and low pressure applications. When the electric ball valve is in complete opening and closing, the thickness of the butterfly plate is the resistance of the medium flowing through the valve, so the pressure drop through the valve is very small and has better flow control characteristics.
The electric ball valve has two kinds of sealing types: elastic sealing and metal sealing. Sealing ring of elastic sealing valve can be in layed on the Metal seal can adapt to higher working temperature, elastic seal has limitation of temperature. If electric ball valve is used as flow control,it is important to accurately select valve size and type. The construction principle of electric ball valve is especially suitable for manufacturing large diameter valve
Electric ball valves are not only widely used in petroleum, gas,chemical and water treatment industries, but also used in cooling water systems of thermal power stations.
The commonly used electric ball valve has two kinds of wafer electric ball valve and flange electric ball valve. The wafer electric ball valve is connected with pipes by double head bolts between pipe flanges, the flange electric ball valve is connected with pipe flanges respectively between each valve end and pipe flange by bolts. The strength performance of a valve means that the valve is affected by the pressure of the medium. Valves are mechanical products subject to internal pressure and therefore must be of sufficient strength and stiffness to ensure long-term use without breaking or deforming. It is usually used to remote control the opening and closing of pipeline medium.
Contact Us
No. 66 Jinhua Road, Shangjie Valve Industrial Park, Zhengzhou, Henan, 450041, China
Phone :+8618838131638