BF Intake Air Device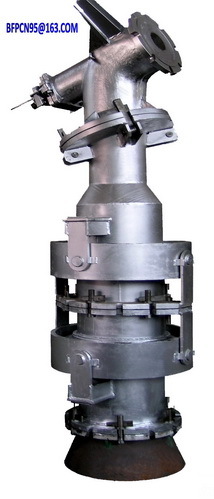 BF Intake Air Device
Price And Quantity
Product Specifications
Product Description
1The invention has the advantages of simple structure andlight weight, and the components can be produced and processed according to theactual requirements, the disassembly and assembly are flexible and convenient,the requirements of quick assembly and disassembly of the front furnace can bemet, a detachable spherical interface seat is adopted on the spherical surfaceof the bent pipe which is sealed with the connecting pipe, and the service lifeof the bent pipe is prolonged
The sealing spherical surface adopts high-temperature-resistantcomposite material technology, cannot be oxidized at high temperature of 1350DEG C,And thesealing precision is ensured by adopting the step-by-step processingtechnology.
3The fire-resistant lining ramming adopts the mechanicalvibration technology, and the ramming is compact and reliable.
By adopting the novel gradient casting material, thesurface temperature of the air inlet device is 50-100 DEG C lower than the olddevice, the heat loss is small, the air inlet temperature is correspondinglyimproved,
The joint of the flange shall be coated with the ceramicfiber gasket with high temperature resistant stainless steel to reduce the airleakage at the middle and later stage of the The air inlet device generallyadopts the following structure types:
1.1000m3 high-andmedium-sized blast furnace air inlet device
1000m3 sends hotair from hot air enclosure to blast furnace with large and medium-sized airinlet device. In ironmaking, the hot air temperature is nearly 1400 and the pressure is 0.6 MPA. In order to ensure thatthe inlet air device does not run in the working state and does not leak, thedesign of the inlet air device is very strict. Because the air inlet deviceworks in harsh environment for a long time, and the blast furnace of ironmakingenterprises in China is developing to high air temperature, high air pressure,oxygen enrichment, coal injection and so on, the performance of air inletdevice is required to be higher and higher.
2. According tothe requirements of reliable performance, longevity and energy saving ofironmaking blast furnace equipment, on the basis of investigation and summary,the structure and technology of our company have been perfected, and many airintake devices with good performance, such as automatic compensation structure,damping labyrinth seal compensator structure and double-layer heat insulationcavity structure, have been developed. The device has the advantages ofreasonable design and reliable performance, and can meet the requirements oflarge and medium-sized blast furnaces. It has the characteristics of pressureresistance, heat resistance, fatigue resistance, low shell temperature, lowheat loss and so on. It provides a powerful guarantee for blast furnace highair temperature, high wind pressure and high smelting strength.
The air intakedevices of large and medium-sized blast furnace at the upper level of 1000m3are as follows.
Separatecompensator flange connection. Universal-angle z-type seal compensatorcoupling type Joint type of universal angular ball surface sealing compensator
Trade Information
SHANGHAI

Telegraphic Transfer (T/T), Letter of Credit at Sight (Sight L/C)
Plywood case suitable for sea transportation

Africa, Middle East, Western Europe, Eastern Europe, South America, North America, Central America, Australia, Asia
All India

TS ECM ISO9001 ISO14001 OHSAS18001
Contact Us
No. 66, Jinhua Road, Shangjie Valve Industrial Park,, Zhengzhou, Henan, 450041, China
Phone :+8618838131638